Vincent Agnew and Georgia Training Alliance Present the 2nd annual Swagnew Game Breakers Football Camp!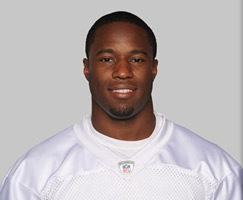 July 12 & 13, 2014
Featuring Vincent Agnew, the Game Breakers Camp will be led by the Georgia Training Alliance (GTA) coaching staff with well over 25 years of combined Pro Football and Educational experience. Read what other campers are saying.
Kirk Spencer, East Grand Rapids standout, and Grand Valley State University Running Back, will be one of the featured speakers at the 2014 camp!
Speaking Engagements and Mailing List
If you are interested in getting on my mailing list, please send your name, mailing address, e-mail address and phone number.
If you are interested in me speaking at your event or school, please email your contact information and details about your event to vsagnew23@comcast.net. I am only available to speak during off-season.
Most Recent News
ARGOS ALL ACCESS
Going all in, Mike Hogan interviews defense secondary, Vincent Agnew, of the Toronto Argonauts.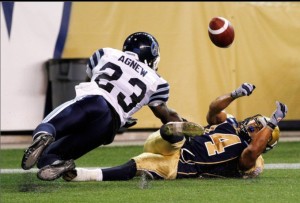 ARGOS' VINCE AGNEW HAVING FUN ON FOOTBALL FIELD AGAIN
Wednesday, May 28th, 2014 - Frank Zicarelli Toronto Sun 08/10/14
Agnew had no clue his football path would bring him back to Canada when he was summoned by the Winnipeg Blue Bombers two years ago in mid-October. All Agnew can recall of that short-lived visit to the 'Peg was the city's well-earned reputation for its wind and cold. And Tim Burke. Agnew's road completes its circle as he continues to prepare for Winnipeg's visit next Tuesday, Toronto's Week 1 opponent…
Agnew's first and only day in Winnipeg involved a conversation with Burke, who joined the Argos this off-season as their defensive coordinator. "We just talked football,'' said Agnew. "He discussed what was required in the transition (from the NFL to the CFL game). It was obviously short-lived, but it was stuff I clearly remembered when I got here. He, Burke, is really good."
Agnew has played in each of the Argos' five games since the opener, lining up at field cornerback, playing with a competitive edge and a spirit that has endeared him to the team's coaching staff. Following practice, Agnew is always among the last players to leave the field, simulating what a receiver would run during games.
Affable, approachable and well-spoken, Agnew has a chance to finally call secure a football home following a merry-go-round existence in the NFL that included stops in Miami, Dallas, and Kansas City. Like most American-born players whose football fate takes them to Canada, Agnew appreciates everything the CFL has to offer — from the style of play, the culture, the coaching style and lack of agenda and politics, compared to the NFL that is.
As an Argo, he's enjoyed every moment. "I can honestly say this is the most fun I've had in football,'' said Agnew, 26. "There's just so much less politics involved. In the CFL, you come here, work hard and every single guy has families, mortgages, cars. Everybody just works hard. The competition is fun and whoever works the hardest and is the best, gets on the field. "To me, that makes the game that much more fun. There's less money involved and it's about the fun in the game."
Agnew — who wears jersey No. 23, a basketball number Michael Jordan made famous during his career — was a hoopster as a kid, adopting football as his passion in high school. He was also a big fan of the Philadelphia Eagles and the player he wanted to follow was defensive back Troy Vincent, whose number was 23. "I had to wear 23,'' beamed Agnew.
At the college level, Agnew played with the likes of future NFLers Antonio Brown and Joe Staley and CFLers Dan LeFevour in Hamilton, Eric Fraser in Ottawa, and the Winnipeg connection of Carl Volny, Paris Cotton and Kashawn Fraser. He credits his time in college for providing his competitive spirit and feistiness.
"That comes from being at Central Michigan. Being a MAC school, we were always overlooked, always the underdogs. We had a lot of guys who embraced the underdog role, realizing we had to outwork every team we'd be playing against. We may not have had as many athletes as a Virginia Tech or a Michigan State, but we were going to grind them all four quarters. We were going to work hard during the week and beat our opponents during that week. That mentality made us scrappy, made me scrappy. It's just something that rolled over from college."
TORONTO ARGONAUTS FIRST DAY HIGHLIGHTS
Wednesday, May 28th, 2014 - ARGONAUTS.CA STAFF
YORK UNIVERSITY – After getting out any early jitters they may have had, the rookies all hitting the field together for the first time, seemed to be getting a little more comfortable. 
One-on-ones showcased a powerhouse matchup between Keith "KJ" Stroud and NFL veteran Marcus Ware.  These two had the chance to go at one another back in Lakeland, and they had another chance today.  Ware had Stroud's number early on, make some impressive stops on the 6'3" receiver, but Stroud came back.  After sharpening his routes, Stroud managed to hang on to a deep ball from QB Josh Portis, with Ware right on his back.  
Cornerback Vincent Agnew held on to the day's top defensive play, after making the only interception of the afternoon.  During team drills, Agnew found himself perfectly placed for the pick as he quickly picked up a bobbled ball close to the line of scrimmage. 
ARGONAUTS ADD THREE IMPORT
Tuesday, March 11th, 2014    ARGONAUTS.CA STAFF
TORONTO - The Toronto Argonauts Football Club is pleased to announce that it has signed import DB Vincent Agnew.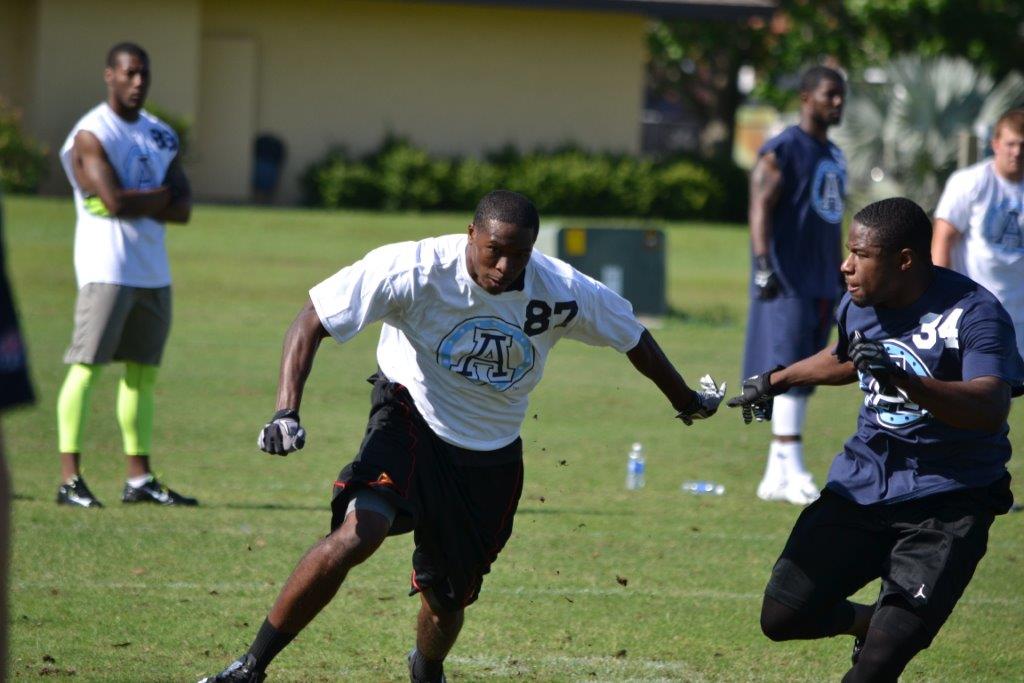 Swagnew Game Breakers Football Camp Donates Proceeds to the Michigan Lupus Foundation
MLive July 2013
Pictured below from left to right: Frank Mortl, III, Vincent Agnew, Geoge Bundy