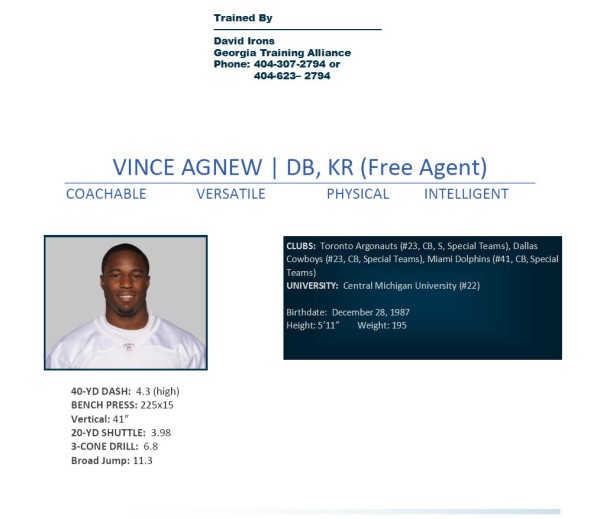 Vince Agnew
One of the biggest things that Vince brings to the table is his versatility and ability to pick up a system quickly. After being in Dallas for only 3 weeks, he played nickel and safety in the game against Philadelphia as well as on a number of special team's plays and a punt return that went for a touchdown. In Miami he played corner and nickel as well. Being able to contribute at multiple positions in the secondary separates Vince. His versatility is not his only asset. He has football intelligence, he is coachable, and he has SPEED. Teammates say Vince is an extremely hard worker and high energy player. Guys in the locker room constantly talk about how they love his work ethic and the way he brings energy to practice and get people going.
Vince said, "In my first year I was just trying to do my job and not mess up. Now my mindset is dominate each snap of defense; make a play for the team. Furthermore, I am not content just being on a team, or being the 5th best corner on the team. My focus will be 100% on being the team's BEST corner. If I said I would be happy being someone's 3rd best corner then I would be the wrong person for the job. "
In 2016, I started Michigan Made Advanced Athletics to fulfill my dream to share my strength, athleticism, and knowledge of the game with high school teams.  Michigan Made Advanced Athletics is a unique brand of high school team football camps across the Great Lakes State featuring Pro Athletes. Don't just hear from us, practice & train alongside us. We come to YOU and cover everything from on-field technique to academics & college prep, and focus on showing the world of sports what it means to be Michigan Made.
Playing sports, teaching sports, and journalism are things I love and I now move into the world of football journalism.